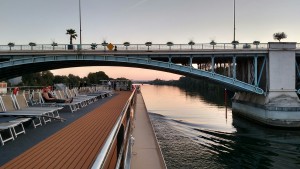 Yup.. Im addicted to cruising. There is something about the open water, the sea breezes, the fact you can ice skate at sea in some cases…. and not to mention the fact you unpack once and your hotel travels with you. These draw me to this mode of travel. I have become rather comfortable with some of the things about cruising that may intimidate a first timer.  For example, I enjoy the resort actually  takes me from place to place even if some of them share space with up to 5000 others. I like a little motion to gently rock me to sleep at night… (Best. Sleep. Ever.)
So after experiencing cruise ships that allow you do anything you want, pretty much anytime you want with 5000 of your new best friends, I wasn't exactly sure how I would take to a small, 3 deck ship with a max of 128 people. Im sure by day 8 of this Avalon Waterways journey aboard the Tapestry 2 Ill have a detailed answer to that question…  but lets start from the beginning of the journey.
aAnd a little introduction… Avalon Waterways is a US based river cruise line owned by the Globus family of brands, which offers cruises in Europe, China, Southeast Asia,the United States, South America and the Galápagos Islands. This journey will take us roundtrip from Paris up to the Normandy beaches and back thru to vista the small villages along the river.
Flying to Europe from Seattle takes a little mental preparation and lots of luck finding just the right flights to get you there when you need to arrive and fingers crossed that you find a non stop option that are not a million Frequent Flyer miles to obtain the very coveted reclining or lie flat seats. Over the years I have become very experienced at hoarding frequent flyer miles for just such an occasion. More out of necessity than anything as I fail miserably at the art of sleeping on a plane, no matter what seat I am in.
We took off at 1:09 pm and 9.5 hours and 9 time zones later, we landed at Charles de Gaulle airport (CDG) in Paris.  I will say it was one of the easiest arrivals ever in Europe when it came to passport control and red tape. Our Sky Priority status with Delta One and my gold level membership with the airline, allowed for the Fast Track line, similar to a Fastpass, and our wait was under 5 minutes. Once we collected our baggage we exited to the arrivals area and found a very pleasant greeter waiting for us.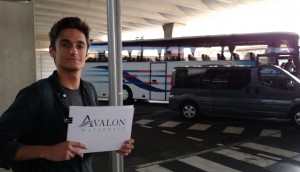 We boarded our motorcoach along with a few other passengers for the approx 1 hour drive to a downtown Paris hotel that serves as the meet up and check in location for your transfer to the ship. Avalon had arranged a room with coffee, tea and water so one could relax and decide what to do while waiting for the 3:45 transfer. They do offer a wonderful option that takes you and your bags to the Eiffel Tower then on to the ship for 39 euro per person which included a level two observation ticket and more importantly, a 2:30 pm reservation so you don't have to wait in line.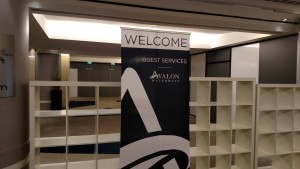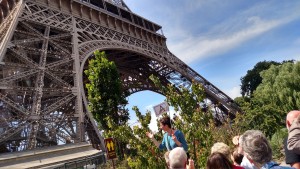 After enjoying some time at this world famous landmark, we were on our way to the ship. As we arrived the crew was ready to greet us with beverages and smiles.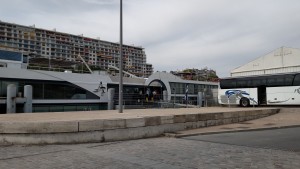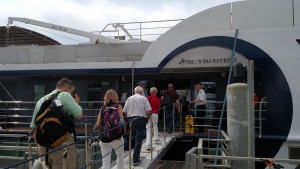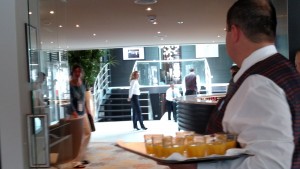 We sat in the lounge and were greeted by the cruise director, captain and crew who gave us information on what to expect onboard the next 8 days. We immediately felt the warm welcome and casual, relaxed atmosphere of the surroundings.  As the check in process begins,  they called us by deck and we proceeded to the front desk, where they take and hold your passport for a day or so, and give you your keys to the stateroom.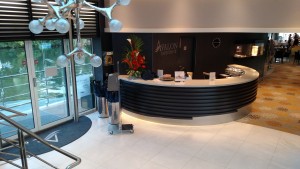 Once checked in, we proceeded to our room to get settled in.  More on that later…
Tips for today:
Try to arrive at least one day prior. Unfortunately my schedule didn't allow for it, however I highly recommend you build in a day to relax on arrival and get thru the dreaded jet lag. That allows you to be rested and ready to go when the fun begins.
Pack a light carry on. When you arrive, you will have some time between check in and the transfer to the bus. You can check carry ons with the hotel desk, or leave them on the bus if you do the excursion on the way. But if you want to walk around and explore, you may need to drag your carry one with you.