Ok.. Ill admit it,  I like balconies. I like the breeze and the sounds of the water. I like relaxing and watching the world sail by while I hang out in jammies.  No shoes or makeup required to get a great view cause you just roll out of bed and step out on your balcony.
Or do you have to 'step out' onto anything?
Not in the case of the Panorama Suites – the name they attached to the staterooms that make up approx 80% of the staterooms on the Tapestry 2.
What they have done is simply brilliant. Instead of taking away from the 200 sq feet of space in the cabin to create a small space to enjoy the open air, while making the balcony space useless unless you step out onto it, they reconfigured the usual design. First they added wall-to-wall, floor to ceiling windows and added a slider that opens up over 6 and half feet to create an open-air balcony. Next they added a small seating area next to the window so when you open it, you can enjoy the sites and sounds all around you. As I type this I am enjoying the scenery of the castles & estates as we slowly pass by.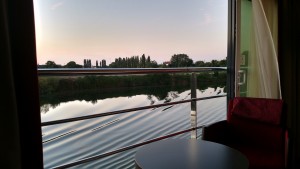 But wait.. theres more!
They took it a step further and moved the bed so it faces out toward the windows creating a more spacious feel and allowing you to enjoy the view from your bed as well.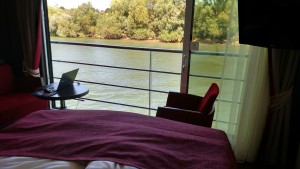 The contemporary design is very appealing and the beds have memory foam padding and a fluffy duvet.  The beds are raised so I could easily store my luggage to get it out of the way and there are lots of drawers and full size closet to get the necessaries out of site.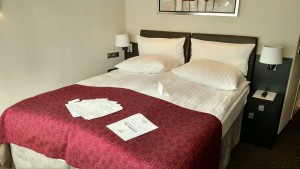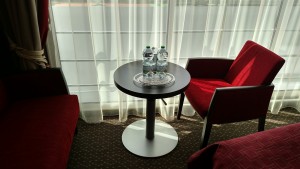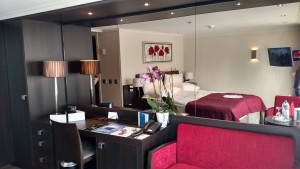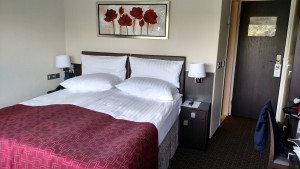 The bathrooms are marble lined and feature a nice sized shower and plenty of extras like shower gel, lotion and shampoo / conditioner.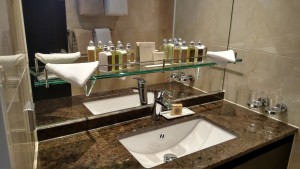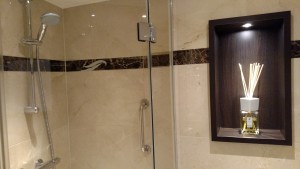 The outlets on this ship are standard European 220. Its really not a great idea to take your $150 hair straightener and leave it to chance that the converter is going to do its job. (yes.. that is stated from experience…) if you are planning to visit Europe, be sure to investigate the correct prongs, volts and adapters needed for your trip.  And you really do get what you pay for when you purchase an adapter. Dont go cheap if you are planning to power your valuable electronics.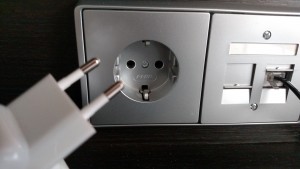 One of my favorite things was returning to our stateroom after dinner – the room had been turned down and the TV was set to a channel with a fireplace and soft music in the background.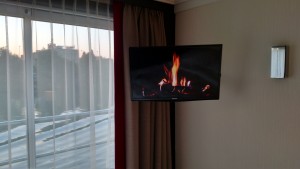 Time to sign off and explore the medieval village of Les Andelys and a hike to the ruins of the Chateau Gaillard where Richard the Lionheart was once held.