Personally, I am captivated by the opportunity to actually touch history. Its one thing to read the stories in history class or sit in a theater watching a Hollywood interpretation of what happened at a place, at a time on the calendar.  This is why I travel.
Travel requires you to get out from behind the screen or the printed page and imagine what it must have been like to actually be there to hear the sounds and close your eyes for a moment to rest your mind and open them to see the surroundings at that time, in that place.
My father's love for travel was passed down in abundance. My first real life history shot in the arm was when I was a child, we were piled in the car to visit relatives and stopped along the way to see the Whitman Mission near our home in Washington state. Ill never forget hearing the tragic story and standing right in the place where it happened way way  back when… in the 1848.   When you are raised in the west coast of the US the 1800 are about as far back as you get …until you travel. Ill never forget the impact of standing a cemetary in Boston on one of my first trips to the east coast in my 20's. Reading the headstones of those who found their final resting places in front of me… were born in the late 1600 to 1700s. And again on my first trip to Europe,  I found myself rendered speechless in Westminster Abbey in London. I could actually put my hand on the structure of the coffin of Queen Elizabeth 1 who is laid to rest on top of her half sister Mary. Or stand in the place where Anne Boleyn spent her final days, and her last moments. These discoveries give me a lot of insight and a level of respect for the people and places I had only read about before.
That is why I am drawn to places that have historical significance and even more so to places that required extraordinary courage and sacrifice to stand up for others. The beaches of Normandy are such a place and one of the reasons I was drawn to this Avalon Waterways itinerary.
Avalon includes 3 options for visiting Normandy. The first visits the US landing beaches and is recommended for the US guests. The second visits the UK landing beaches and several of our UK and Canadian shipmates opted to see the places where their countrymen served. They also have a third option for those who may have visited before and wanted to see a different angle of the Normandy region. It was called the Taste of Normandy and focused on the culture, history and traditions of the area.
We selected the US beaches to get that up close understanding of what happened that day and the people who sacrificed so much for so many.
The day began early to have time to shower, have a bite to eat and be ready to board the motorcoach at 8:00am. The drive from Caudebec is approx 1.5 hours but can be a bit longer of you end up in some traffic or behind farming equipment before you hit the highway… like we did.
This is a long day and lots of bus time, so it will require two blogs to cover it all.  And of course, I am barely scratching the surface.
Off we go on our 10.5 hour journey!
Crossing this modern bridge just outside of a medieval village was a tad surreal…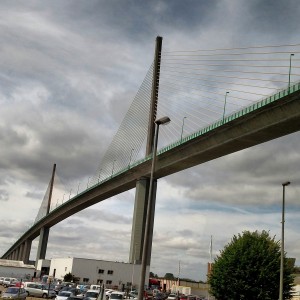 We made one restroom stop on the way for a stretch break and a chance to get some snacks. It was a large 7-11ish type gas station with all the usual options… except in French. I am so happy for standard brand packaging… I mean, a Kit-Kat is thankfully still a Kit-Kit.
There was a wall with vending machines and i just had to look at cause.. well.. it was a shiny object …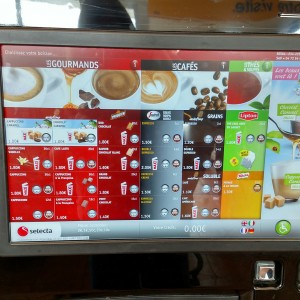 As we made finally made it to the coast, the serenity of a beach side holiday location gave way to its history as signs of its tragic past began to emerge along the roadside.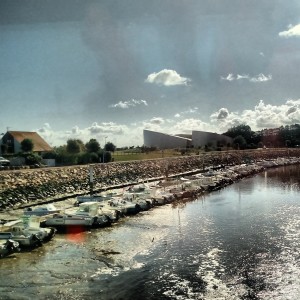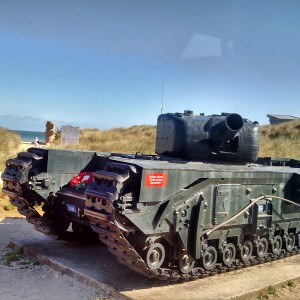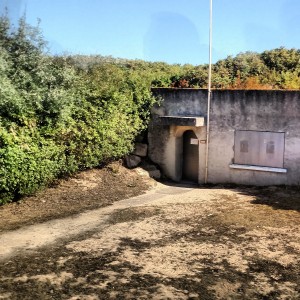 We arrived at the town of Arromanches-les-Bains, the site of a D-Day Museum and famously played host to one of the Mulberry Harbors.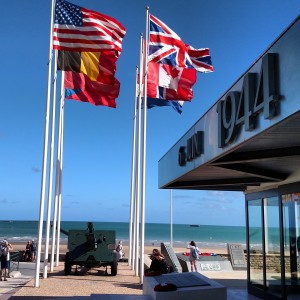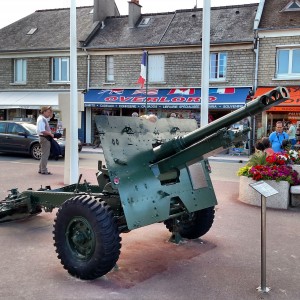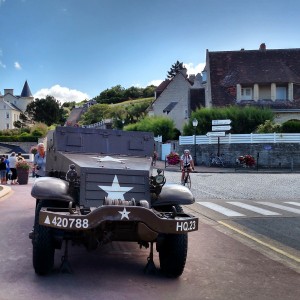 The Mulberry Harbors were created out of necessity to provide the port facilities needed to offload the thousands of troops and vehicles, and tons of supplies to support the Battle of Normandy. The Germans had suspected the allies would attack, so they heavily defended the existed ports. What is an allied invasion force to do?  Build your own in a place the enemy isn't even thinking of.
Ships were sunk to create artificial break waters and prefabricated harbors were constructed and assembled just off the coast. Ingenious! They included docks and roads to drive trucks out to retrieve the supplies and get them going to those who needed them. Pieces of the concrete are still in place today and can easily be see from the shore.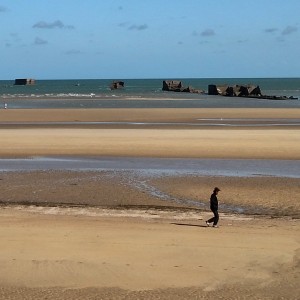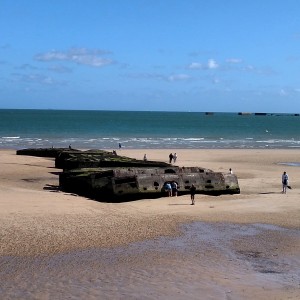 The museum included artifacts, maps, uniforms, and a film (yes.. in English along with other options as needed) explaining the process and how this engineering wonder came together as the backbone that played a major part in success of Operation Overlord. Then it was off to lunch in a modern cafe on the beach, included in the free excursion, and boarded the motorcoach once again for the next locations on our discovery.
Along the way we encountered beautiful landscape dotted between tiny villages with corn fields and a steeple or two popping up now and then.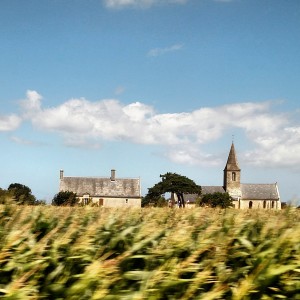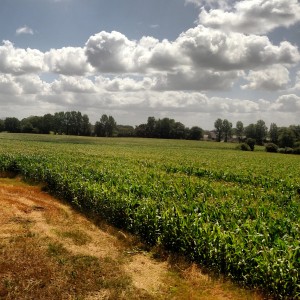 Next up… the three places every American must, and everyone else should see when in Normandy, France…
In the meantime, whats your first memory of history captivating you? Inquiring minds want to know!