Please pardon the pixie dust as I was a bit distracted by my day job the past 2 weeks, but its time to sit down and type out the final few days of this amazing river cruise.
Day 6 found us on the journey back towards Paris. (ugh — is really almost over??)
Today we made a stop in Conflans which served as the jumping off point for two shore excursions to wet the appetite of art and history lovers alike. The morning offered a choice of a visit to Van Gogh's Auyer-sur-Oise or a tour of Josephine's Chateau de Malmaison. The afternoon tour provided an opportunity to escape to the grand Palace of Versailles. This was one of the tours that was an additional cost, but well worth it and in my opinion no first timers visit Paris is complete without a stop at this glorious palace befitting a Sun King.
I elected to make this my "sleep in and relax' day….  it started with a continental breakfast in the stateroom. This the only meal you can can have delivered to the stateroom and comes at a small service charge but was a very welcome change of pace after a busy few days.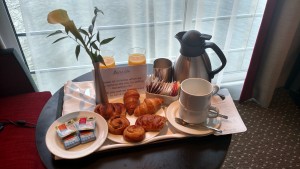 Now that I mentioned food… lets take a moment to explore some of the tasty delights onboard the Tapestry 2!
The ship has an elegant dining room on deck 2, spacious enough to seat all 128 guests at one seating. For those of you who want to be hermits and not talk to another living soul… this is not the vacation for you. While the do have limited tables for 2 and 4, this is the kind of experience that beckons you to reach out and get to know your fellow passengers. Some of the most memorable nights were those spent at a large table of 8 or 10 and sharing stories of the days' adventures.
There are many breakfast options served onboard to fit anyones personal time schedule.  Are you an early riser? no problem. A continental breakfast is available for you to nosh  between 6-7 am served in the lounge. Do you prefer not to set an alarm before 9 am? covered. The late riser breakfast is available in the lounge as well.
But is you want the full meal deal… the full breakfast is usually served between 7 – 9 in the main restaurant. (times can vary depending on the port.)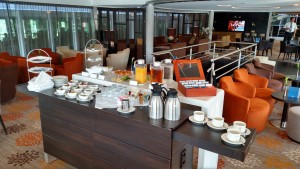 The full breakfast is served buffet style and features a nice variety of fruit, breads, cereal, cook to order eggs, and bacon made two ways — the UK way and the american (as crispy as possible) option. Coffee, tea and juice were included as well. Lunch is also served buffet style with salad, pasta and carving stations.  Coffee, tea, ices tea, and soft drinks are included with your afternoon meal.
Dinner onboard the Tapestry 2 went above my expectations. Everyday the chef and his team prepared an array of tasty salads, delectable soups,  amazing main courses and desserts that would rival some of the best land based restaurants.  Filet of pork on Roquefort Sauce, Sea Bass on Pernod Cream sauce, Salmon with white wine butter sauce, veal with rosemary shallot sauce, lamb with mint crust on rosemary, and on the available everyday menu grilled sirloin & chicken breast – all cooked to perfection for a hungry band of travelers. And!  wait for it… a selection of red or white wine is included with dinner as well soft drinks, coffee, teas and juice.
There was a wonderful variety of vegetarian options and they handled special diets and food allergies very well considering the small galley operation. We dined with a diabetic and a gluten free couple and the chef visited the table to ensure their needs were met as the cruise progressed.
Other specialty options pop up now and then during the itinerary. Some like this afternoon lunch served on the sky desk include the usual grilled fare – hamburgers, sausage, salmon, chicken breast, backed potato, corn on the cob and ice cream sundae.  The grill lunch is included in your fare, but the number of seats is limited up on the deck so you have to pre-register. Its a wonderful way to spend the afternoon.
Another very special dinner option was offered two nights during the cruise. The Bistro dinner featured a tapas menu with several courses of small bits along with a wine pairing. This mean was very popular with the guests and was another that was included in your fare, but you had to sign up to get one of the coveted seats in the lounge.
A light lunch is served in the lounge:
And if you are like me….  you sometimes get a craving for something after dinner or in the afternoon.  They have thought of us grazers too… at the aft of the ship there is a comfy room with self service coffee, tea, hot chocolate, water & juice. But more importantly there are always a few snacks like croissants, cookies, and doughnuts.  (mmmmm…. doughnut….)  and all can be enjoyed at your leisure and with a spectacular view.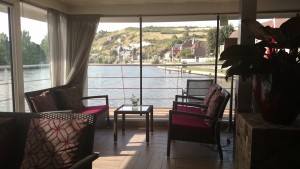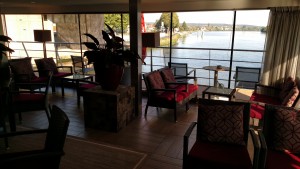 With all this talk about food, its time to go eat something!
Next up… we will wrap up the trip and look forward to the next adventure!