It has happened to me more than once… including this past weekend.  You are away from home on business or vacation and you get that feeling.  You know the one.  It might be a slight dizziness, a twinge fatigue, a slight sore throat, or a stuffy nose that tells you to get ready to spend a day or two in bed cause no matter how much hand-sanitizer you used last week, a bug has you tightly in its grip and it's only a matter of time before you will be feeling miserable.
If you just started your travel and you can't get home to see your own doctor, there are resources available to help.
You can check with the hotel to see if there is a doctor on call or an urgent care close by, but there is another alternative that might be just as effective, more comfortable and much less expensive than an urgent care visit.
'Doctor on call' services are great options for when you are in need of medical help for basic needs in a remote location. Personally I have used Teladoc for a few years now when I have been stuck in a hotel room and could benefit from something more than an over the counter remedy. The US board certified doctors & pediatricians are available 24/7 across the US.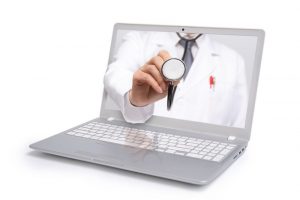 It's as easy as starting a profile, filing out your medial history and hitting "Request a Visit" on your phone or tablet. Within just a few minutes a certified medical professional calls you on the number you provide, or joins you in a video chat to help diagnose and provide any necessary prescriptions to get you back up and vacationing as quickly as possible.
The doctor will review your medical history and discuss your symptoms and possible solutions including any medications that may be needed.
Quick tip — check with the hotel concierge before the call for the name and location of the nearest pharmacy that delivers to your location. That way you can load it in your profile before the call to make the process as painless as possible.
And even more good news, many insurance companies are embracing these services and have negotiated lower rates. Check with your health insurance to see if they have benefits for Teledoc or one of many other similar services like MDLive or Doctor On Demand.
Of course these services are meant for non-emergency needs like colds, flu, upper respiratory issues, allergies, pink eye, fever, etc.  Those issues that come up when you least expect them… like they did for me this weekend when I was away from home.
I'm home now and comfy in my bed but it is always comforting to know I have access to help when I travel.
Other Travel Wellness Tips:
Consider Travel Insurance – Especially When Leaving the USA
Most medical insurance policies you get through your work, will NOT cover you outside the USA. Same is true if you are on Medicare. Many people do not realize they done have coverage and can get stuck with huge medical bills from care abroad or med flights to get you home when things are a bit more serious.
Wash your hands – often
Consider the number of people who have touched that stair case railing or the theme park credit card kiosk when you type in your pin.
Take sanitizing wipes on the plane 
One of the worst germ infested places you will encounter during your vacation is the airplane tray table. Travel with disinfecting wipes and wipe down all the surfaces you will be touching before takeoff.  You can also buy a small pack from most stores inside of security at the airport.
Hydrate, Hydrate, Hydrate
Drink plenty of water both on the ground and on the plane. The dry air on the plane can contribute to a heightened risk, so you may consider saline drops for your nose and eyes as that can offer some protection.
If you feel sick, stay in bed to avoid spreading it around
Even a day or two of sequestering yourself  in your hotel room will help you get better and to avoid spreading the bug to others so they can enjoy their vacation too.
And as s a frequent traveler, I thank you in advance for keeping your bug, to yourself.