"Disneyland will never be completed. It will continue to grow as long as there is imagination left in the world." – Walt Disney
This is one of my favorite Walt quotes as it truly illustrates the understanding that everything had to evolve and change to remain entertaining and relevant.  While its sad to see the familiar disappear from the park maps, I am even more excited about the possibilities.
And in this case… its Epcot.
This park has held a very special place in my heart since my very first visit in 1996. A relative late-comer when I stand in the presence of several friends in the community, some of then were even at the gates on opening day.
Can you believe this beautiful lady is going to celebrate her 50th just around the corner? And to help celebrate, she is in the capable hands of the amazing Imagineering team to get her ready for the party.
Over the past few weeks we have heard bits about whats coming, but today we finally had the opportunity to see some artists renderings, including an all new entry to the park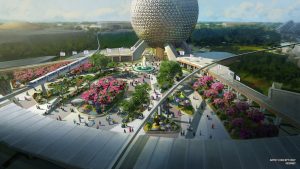 This may be a tad controversial, but you know me… that hasn't really stopped me from putting my thoughts out there so… here goes. I almost did a cartwheel of joy when I saw that Leave A Legacy monoliths will finally being moved away for the main entrance.  I was never a fan of this display as it reminded me much more of a memorial of people lost that could be transplanted to Washington DC then a tone setter for a family to enter into a theme park for a magical day of fun.
Don't get me wrong… I totally get the intention behind it and I'm sure many families took advantage of the opportunity to capture a moment in time that is literally etched in stone.  But if you are an outsider looking in,or someone walking past them without any skin in the game, the execution just didnt seem to fit the brand we know and love.
(insert cheers for bringing back the bricks here)
anyway…
I'm also excited to see the long underutilized Wonders of Life Pavilion  will finally be given some love and new life as a new play pavilion.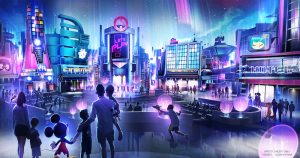 Other exciting attractions and experiences Disney has previously shared are:
Guardians of the Galaxy-themed roller coaster in Future World
Epcot Forever, a 2019 limited-time nighttime experience over World Showcase Lagoon set to classic Epcot tunes, followed by an all-new nighttime spectacular debuting in 2020
Space-themed table-service restaurant adjacent to Mission: SPACE
Remy's Ratatouille Adventure attraction in the France pavilion, patterned after the number-one family attraction at Disneyland Paris
Circle-Vision 360 film for the China pavilion and updated O Canada! 360-degree show
Signature Dining experience inspired by the natural beauty of Japan
Beauty and the Beast" sing-along in the France pavilion, showing in addition to the pavilion's current film, Impressions de France
Now.. that is amazing just as is… but wait! Just like the secret Ginsu knives add-on, I'm betting there is more.
Cause I'm a betting gal, and knowing they like to save info just so they can spring announcements on us at D23 Expo…  primarily to see how long it takes for us uber-fans to hoist our collective jaws off the convention floor – I'm willing to put one frosty cold Sunken Treasure on the table that given this is a 50th celebration on a massive scale,  we haven't seen anything yet.
What do you think they will announce or  do you think this is it and you are ready to claim your Sunken Treasure?  And what do you want to see re-imagined or come to life for Walt Disney Worlds 50th?