I enjoy travel… I mean I really enjoy travel.  (duh… otherwise a blog about travel would be kinda pointless… right?)
I find I am drawn to the kind of travel experiences that allow me to be immersed in history and culture. Finding great joy in discovering things that may be… well… different to me, yet part of everyday life to others, and there is no better way to find and embrace those differences then traveling to a foreign country.
Until about 10 years ago the extent of my ventures outside the borders of the US consisted of Canada & Mexico. It was fun to go into a store in Canada and see the product labels were in both English and French. Not to mention the colorful money and doing math conversions to ensure I wasn't pulled over by the MPs for speeding.  Small differences, yet enough impact to make it fun thus tempting my curiosity to take a hop across the pond.
The break came when I had the opportunity to travel to London and Paris on an Adventure by Disney. I'll be honest… the thought of traveling that far outside the US was a bit intimidating, especially after 9/11… and being the do-it-myself loner type, I wasnt sure what I was getting myself into when it came to traveling with a group. Knowing the Disney brand I summated that – with safety first and traveling with a group of people that I already have one thing in common with (the affinity for Disney of course)  It would likely be the best option of all the possibilities.
That one trip…. and time spent traveling over the years… have both proven I was right to trust my instincts.
Viva Italia Is my 10th Adventure By Disney trip and as I write this from the comfort of my room in a Tuscan villa overlooking the gentle rolling hills of the region… I cant imagine doing a land based guided tour any other way.
Hopefully you will see why when you follow along on this latest adventure.
Our tour from Rome to Tuscany to Florence to Venice will have some curious stops along the way. Ill share the details of the hotels, food, touring and general shenanigans of this kind of travel – plus add a few travel tips and expectation adjustments anyone traveling to Europe should know.
Lets start with… this little beauty.
Day one of any trip to Europe (or if crossing more then 3 US time zones) should really be day two or three. Meaning, plan to add at least one or two pre-days before any scheduled and/or important activities.  This allows you to arrive, rest up and fully emerge from the fog of the dreaded jet-lag haze before you are ready to begin. You dont want to spend your first day seeing amazing sites and barely being able to remember them.. right?
We decided to arrive two days prior on this adventure. Luckily we were able to take advantage of a two leg journey form Seattle to Rome through Amsterdam.
When we touched down in Rome we breezed though the formalities and walked into the baggage claim area where Natalia was waiting to help us collect our bags.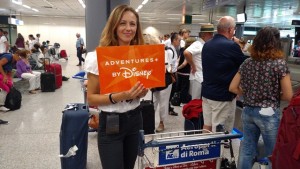 After all our bags were accounted for, she escorted us to our private transfer vehicle where our driver loaded our bags for us while we waited in air conditioned comfort.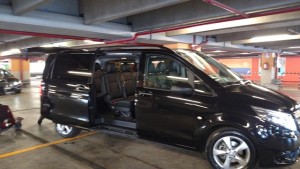 Approx 45 minutes later we pulled up to the first of three hotels for this adventure… the Gran Melia Rome Hotel. This hotel is truly an oasis in the middle of the hustle and bustle of the heart of Rome, located within easy walking distance of the Vatican.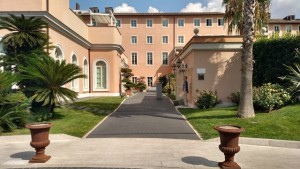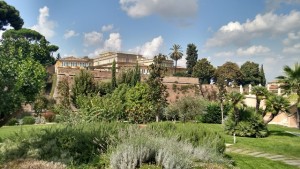 The lobby….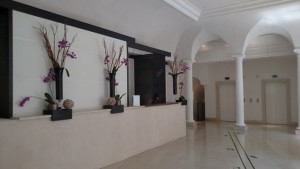 One of the lounge areas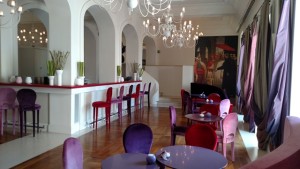 The deck above the pool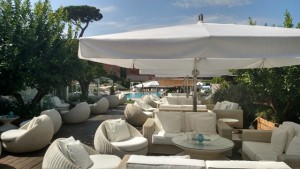 The pool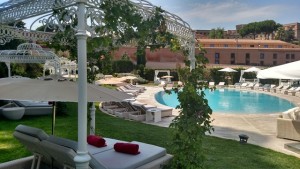 The library off the lobby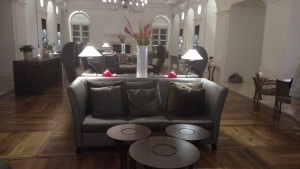 Upon arrival we were met by the hotel staff, checked in and whisked off to our room.
Beds were topped with memory foam and the hotel provided a pillow menu with choices ranging from neck comfort to a variety of specialty memory foam designs to standard fluffy feather pillows.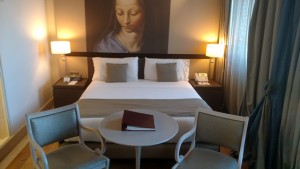 Yes…  dont be alarmed…
you can see right into the shower from the bed, as depicted below… but – there is a shade that can be raised or lowered depending on the need and the the white ball on the floor is handy for putting your foot on to shave your legs ladies!  (a feature forgotten by many tubless showers out there..)  BUT! It has a rain shower plus horizontal jets that shoot directly out from the wall and help with easing those sore muscles from the flight.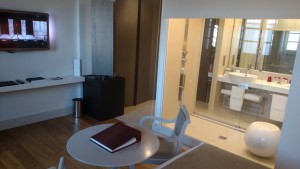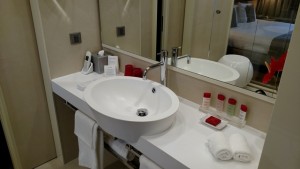 If you are going to travel outside the US, or plan to stay at a fancy hotel or cruise ship – you will eventually run into one of these — its a Bidet. (google it if you aren't sure what it is.. there are lots of handy links for step by instructions if needed… — Have fun with that one kids!)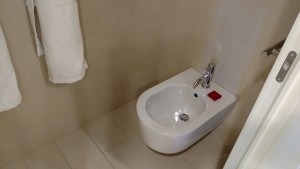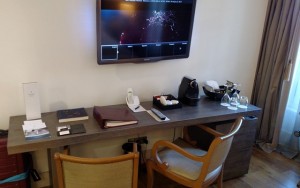 You will not find standard Keurig coffee here….  instead welcome to the world of espresso makers and tiny cups to get your pre-shower caffeine fix before you are ready to emerge from your room each day.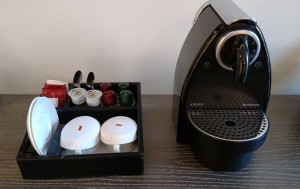 And how can you go wrong with a view of the Vatican and the Castel St Angelo?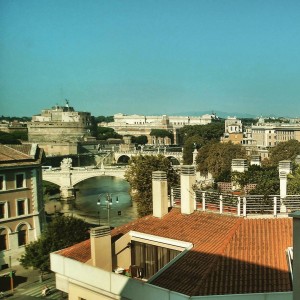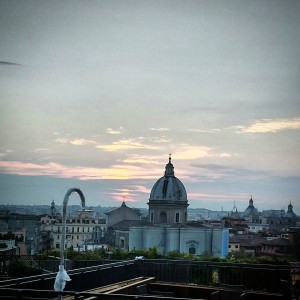 When you arrive, you want to try and do two things to help combat jet-lag — hydrate…  which hopefully you were doing on the plane as well if you weren't sleeping, and move every mountain you have to in the effort to try to stay awake until at least 8 or better yet… 9 pm local time. While those first few hours may be tough to resist the urge to nap, it will make the transition much easier.
We decide to take in some of the local sites and venture around the neighborhood on foot.  Ill share some of the pics we took and the murder of Caesar site turned cat sanctuary… in an upcoming post.
For now…. lets move on…
The day our Adventure officially began, the guides Dusty & Marco, set up a meet up area in the library area of the hotel lobby.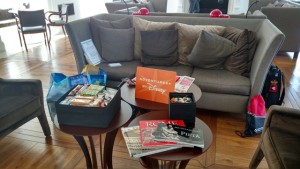 This provided a central area where the Adventurers could meet the guides, check in for the shenanigans ahead, get recommendations for touring or restaurants that night, and just hang out and grab a snack from the ever present snack box.
Two quick things…
1) you never go hungry on an AbD
and as you will learn in short order…
2) You always have someone there to help or just to chat with in this new 'family'… you will never be alone, even if traveling as a single.
The beginning of any adventure starts with a welcome meet up and dinner. (in most cases… some may be different..)
Here is where you get to:
Reconnect with friends… err family… err clan .. from past adventure trips: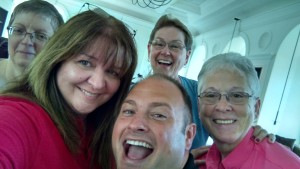 Meet the guides and your new fellow adventurers…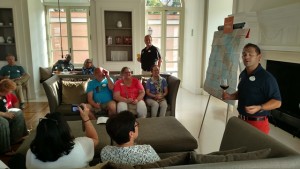 Get an overview of the what the next few days together has in store…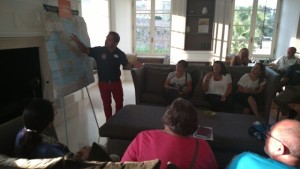 And then adjourn to a fantastic meal to kick the whole thing into gear!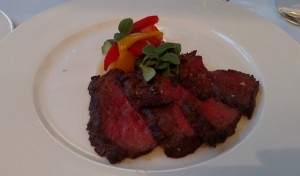 Are Adventures by Disney trips expensive?  yes… and I hope that by the time I have shared the entire trip, you will get a feel for the value of what you get for the money.  Personally I think of travel as an investment in experiences that will certainly pay off in huge dividends that you may not even be able to imagine until you have lived them.
Next up… the first of two days exploring Rome.
(writers note: please forgive the time it will take to get through this adventure.. so much to see and not enough time to upload all the needed pics (or connection to do so)  in many areas,  so will likely take a few days between posts. Thanks for your patience and for following along!