Technology is a great innovation. I honestly don't know how I would get everything done in a day without the various electronic devices functioning as my communication tools. Who has time to actually watch the 5 o'clock news when the latest headlines are splashed across my smartphone every few minutes to the tune of my favorite ringtone?
And therein lies the problem…  (I'm about to show my age here…)
Remember the good old days?
When Saturday mornings meant curling up on the couch with a bowl of cereal watching your favorite cartoons back to back to back? Or better yet… anyone remember family game night? My dad had a knack for pulling a board game off the shelf after dinner and we'd play and laugh until I heard those words…  I WIN! … or the more dreaded… Its past your bedtime.
As the wife of a guy who is in the electronic gaming industry…. I will choose my words carefully here… but as much as I have been addicted to titles like Legend of Zelda, Wolfenstein, City of Heroes, Diablo 2, and yes Im a little crazed over Dungeon Boss on my ipad… I really do miss the days of sitting around the table and trying to take down my family members with various board games. Or just to be able to have some bragging rights until they beat me the next weekend.
This fact had me feeling very nostalgic when my family and I sat down to play a new twist on the game I knew and loved called Monopoly Empire. After all it was World Monopoly Day!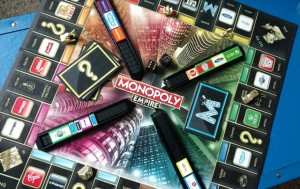 This new version bares a little resemblance to the version that would take hours just to pick your game piece, haggle over the rules you elect to ignore or follow then even more to do battle over properties and $10 beauty contest wins.  No… this is not your 8 year old self's Monopoly. This time you, and up to 3 others, are  business moguls building your empire of companies on your tower. The pace is faster and you may even find time for a decent rematch or two if you need to get even.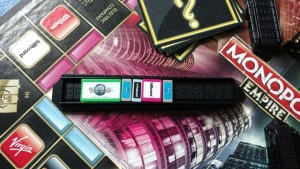 This is the 2nd version of Monopoly Empire and instead of cards with properties you get tokens of various well known brands…. including Universal Parks and Resorts. (yes… I got a little possessive over that one. Shocking… ) With theme park locations in California, Florida, Singapore and Japan … who wouldn't feel like they ran the board with that one in their tower!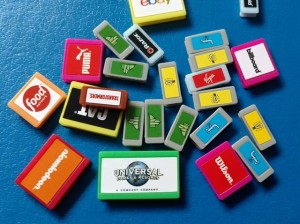 The rules are pretty simple and no fear of bankruptcy as the goal isn't to have all the cash… Its to fill your tower before your opponent. And there are ways of making it difficult for your competitive family member.. or them to make you crazy by stealing your favorite brands right from the top of your tower.
and – Don't touch my Universal token…. (couldn't help myself…)
Anyway… this version also features the familiar car and shoe tokens … or you could branch out and try a video game controller … or my personal favorite.. a Transformer!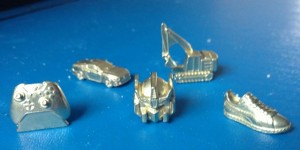 You don't have to wait until World Monopoly Day comes back around… take a day this weekend, clear the dishes from the table and pull the game off the shelf. Challenge the family to turn off the electronics and enjoy an evening together  If you don't have a board game hanging around, try Monopoly Empire.
Sometimes the best adventures are right in your own home, surrounded by your clan.. as you battle it out over a board game! What board games do you play with your family?