As a Disney fan, I have a bucket list of things I'd like to experience in my Disney travel adventures.  I often dream … How cool would it be to have the Magic Kingdom all to yourself.  You know…  just you and a few hundred close friends.  Well, given my current bank account balance, and the unlikelihood I'll ever win at mega millions jackpot, a park buyout is really not an option.  So, I was very happy to be able to experience the next best thing – Disney After Hours.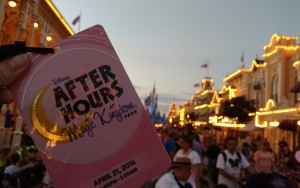 What is Disney After Hours? 
Its a special event that requires a hard (separate) ticket purchase for entry to a Magic Kingdom party, held after regular park hours, with a limited number of guests for a limited number of nights in April and May.  And when I say limited number of guests… I mean you feel like you practically have the park all to yourself.  I attended two of these parties. The first one was a comp ticket given to me as a benefit of an event and the second I purchased myself. I'm glad I had the opportunity to attend twice because frankly it was so empty the first night that I wondered if the rain that night had an impact on attendance. I was pleasantly surprised to encounter the same crowd level on a second night when the weather was perfect.
Here is a list of all the 26 open attractions on the two dates I attended:
(click on it for a clearer pic)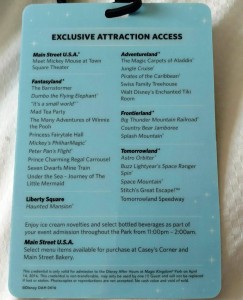 Here are just some of the attractions I visited and pics of the queues not long after the party started:
Mad Tea Party –
Pretty much a party for one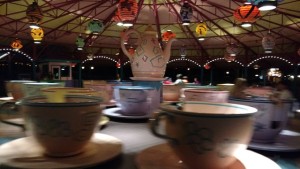 Peter Pan's Flight –
I really enjoyed going on this attraction over and over (re-living my childhood) because when I'm here, the 45+ minute wait time tends to make me late for meetings (ya… I actually do more working then I do riding when I'm here…)  so I hadn't seen it in a couple of years.
Mickeys PhilharMagic- 
The theater had 6 people in it…  I heard things I never heard before in the show!
Pirates of The Caribbean
Had a boat to myself.  (another check on the Disney fan bucket list!) And the 5 boats in front and the 5 in back… all empty. Can I admit right here and now that riding it alone at midnight is creepy?  I kept imagining Id hear the Twilight Zone music and Rod was going to step in any minute and say…  "Welcome to a single voyage for a single passenger….  at least…  she thinks shes alone…the animatronics are restless…" — but-   It was a good kind of creepy.  (if you love pirates as much as I do… you will totally understand.)
Big Thunder Mountain Railroad & Jungle Cruise
Both are a wild time in the dark!
Buzz Lightyear's Space Ranger Spin
If you don't like your score the first time…  try again, and again and again.  You just stay on the ride!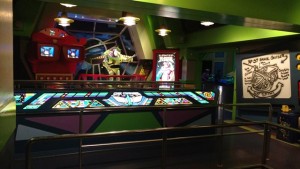 "its a small world"
No wait and no one.  You can sing along at the top of your lungs and only the animatronics will hear you.   (well.. and maybe the cast members who are still watching you to be sure you are on your best behavior…)
Seven Dwarfs Mine Train & Princess Fairy tale Hall
These were the two longest queues I found all night. You could walk right in and meet Cinderella & Rapunzel and Anna & Elsa were no more than a 10 minute wait.  Mine Train was popular but the queue line never stopped. You just walked right into place to board the next train.
Haunted Mansion
Another attraction where I was virtually alone on the ride and enjoyed it even more as I allowed my imagination to take off thinking of all the wall to wall creeps and hot and cold running chills… while I was alone in the dark.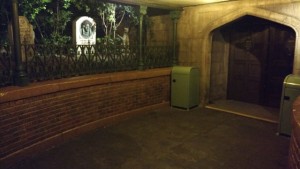 Disney After Hours Is A Photographers Paradise
Another bonus was being able to wander aimlessly around the park and take photos with no obstructions and no people in the background.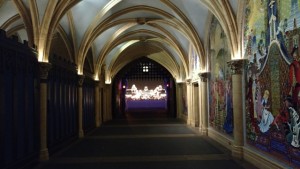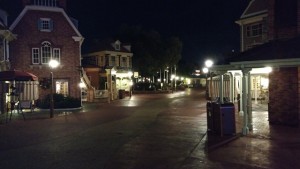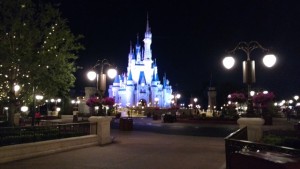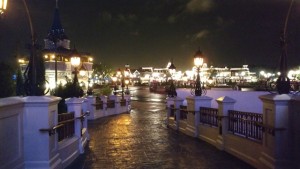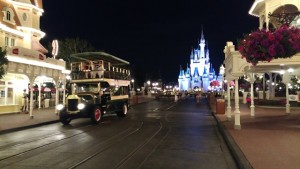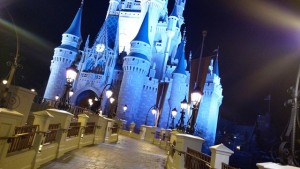 Even the ducks rolled out their sleeping feathers in the Adventureland walkway and didn't even stir when I sat on the ground to take this pic.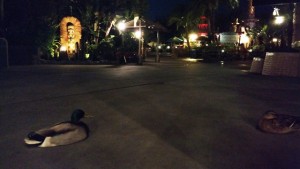 The Elephant in the Room – The Cost
This extra hard ticket costs $149 per guest and on the surface it does sound like a hefty  price to pay for 3 hours in a theme park.
(Update: 4/27/16 — an offer has been released for $75 tickets for Annual pass holders and DVC members) 
However, there are many things to consider…
You can actually get 7 hours in the Park
While the party itself started at 11 pm,  you can actually get into the park on your Disney After Hours ticket at 7 pm.  A cost effective plan could be to forgo a park ticket that day and enjoy and the resort or Disney Springs instead and put that cost towards this ticket. Show up at 7 pm and enjoy the attractions not scheduled to be open in the 3 hours of the party and even enjoy the parade and fireworks too!
What else is included:
Select unlimited beverages and ice cream are included in your ticket price. Several carts are open in the 6 lands and all you need to do is walk up and select from the menu of ice cream or ask for a Diet Coke, Water, etc.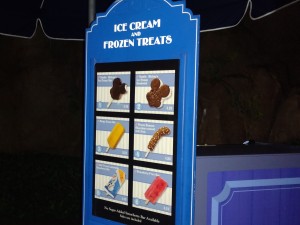 Operational costs:
When you look at other events like the seasonal parties, it seems the prices are just going up, and so are crowds. Back in the olden days you could attend a Mickey's Very Merry Christmas party and enjoy your cookies, hot cocoa and get a family pic and still wait no more than 10 minutes to ride any of your favorite attractions.  In the past few years, the parties are so crowded that even after the fireworks, you are still seeing 40 minute queue times.  We have heard a chorus of people giving feedback the parties are just too crowded to enjoy as we once did.
If I had a dollar for every time I have heard someone say " I'd pay twice the price for  half the people'  (I'd probably be able to do that park buyout after all. )   So I'm thinking this event is an experiment to see if that theory holds true and if so,  they are in turn providing an outlet for those who value the benefits of this event.. enough to pay the price tag.
And I'll be the first to say – ya, its expensive and I wish the price point was lower.  But lets face it…. this stuff costs money. They have to staff six lands, 26 attractions, stores, beverage/ice cream carts, provide security, print credentials, facilitate the selling and obtaining tickets, not to mention having a fleet of buses ready at 2 am to take guests back to any one of the resorts they may be staying. And.. oh ya. they are a business so they need to show a profit to make it all worth it too.
At $149 per person at a maximum number of guests at a low enough number where you feel like you have the park to yourself…. and knowing from personal experience what it costs to buyout just one attraction or land in a park let alone 6 lands and 26 attractions…. $149 pp is a down right bargain.
Another way to think about it
Now before I start seeing the hate email… Let me be crystal clear. This experience is not for everybody.
Just as other experiences with varying choices and costs are options to any guest, like staying at a deluxe vs moderate hotel, or taking the free Magical Express service vs paying for a private town car, or booking a private VIP tour guide vs a ticket on the Keys to the Kingdom tour, Disney and travel in general is chalk full of options that cost varying prices and offer a variety of benefits and we make those choices based on our individual interpretation of value.
Just like when I was a kid…. I'd go to the ice cream place in town and instead of vanilla or chocolate in a bowl…  I was always willing to pay a a little more allowance for the waffle cone with a scoop of premium black licorice and a scoop of bubble gum.  Are those flavors for everyone?  No. But they were for me… and I elected to pay a little more of my allowance for the flavors I enjoyed.  Even though my daddy just shook his head as he ate his chocolate in a bowl.  I chose the priority for the way I wanted to experience something.
Disney After Hours appeals to a certain guest who values the benefits of the event, (no lines, no heat after the sun goes down, no crowds)  enough to pay the price tag.  And there are many of us out there who would happily take the option of a one day park ticket with 12 hours of park time in the Florida heat and 30 – 40 minute wait times for most attractions, and exchange it for 7 hours of park time, absolutely zero lines at hour 4 and a very magical feeling of being the only person on an attraction, or at least feeling like you are.
So again, the experience and price point will not be appealing to everyone, but it is too many who may or may not be you.
If it is for you….
Tips for making the most of your $149 investment
As mentioned before, great price strategy is – don't buy a park ticket that day and instead enjoy Disney Springs or your resort pool.
Arrive right a 7pm (or the time listed for your party date) and take full advantage of the 7 hours available to you.
Bring a good camera that takes great night pictures. There are great pics just waiting to be sent to your cloud.
If you have young kids who may not appreciate the late hours, I'd reconsider. If you are paying the price, you deserve to be able to take full advantage of it.
Just need a bottle of water a diet coke etc?  Don't forget to stop and grab one as you need it. Its included! Not a lot of dinner type options, so you are better off to have an early dinner before you go.
If you are planning to travel to Walt Disney World soon, you can still get Disney After Hours tickets for April 28, May 5, 8, 12 , or 19th by calling: 407-827-7185. You can bet if they offer this again I will be in line for a ticket. (Fingers crossed for fall)
For many people, experiences like having a park and attraction to yourself, having amazing photo opportunities of an almost empty Magic Kingdom and seeing how many ice cream bars you can eat in 3 hours is a value worth the price of admission.
For me… I enjoyed all the benefits of the event, and it will likely come as close as I will ever get to having a park to myself.  But ill admit, getting a picture like the one below feels like a once in a lifetime, and truly was magical and special for me. Just the kind of whipped cream on top of my licorice and bubble gum ice cream cone that made it a great value… for me.