Like chocolate and peanut butter, two of my very favorite things are coming together!
Today Universal Orlando announced a new holiday experience combining all the magic of the Christmas holiday with the Wizarding World of Harry Potter.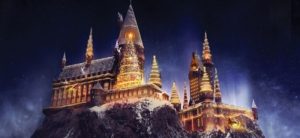 From November 11, 2017 through January 6, 2018, new holiday experiences of sights, sounds and even tastes will cast a spell on both Hogsmeade and Diagon Alley.
Check out the video for more info!