Two of my favorite things in one of my favorite locations: the holidays and food (and adult beverages!)! This year the Epcot International Festival of the Holidays returns from November 19 – December 30 and I've put together a list of my Top 5 favorites. If you haven't been to the Festival of the Holidays you are in for a treat. There are 15 Holiday Kitchens around the World Showcase with more seasonal options at various quick service locations throughout Epcot. You can sample all the flavors of the globe at these kitchens – and then pick your own Top 5!
It was hard not to pick only desserts because each location has something amazing to tempt your sweet tooth, but I tried to put in some non-dessert items too to round my list out:
1. Cheese Fondue – served in a bread bowl with fresh steamed baby vegetables and marble potatoes – this is hard to beat, especially when it's just a little bit chilly (Floridian for winter) around the World Showcase. You can't go wrong with cheese and bread! You'll find this at the Bavaria Holiday Kitchen in Germany.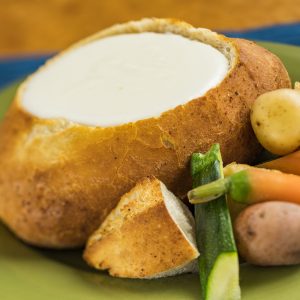 2. Slow-roasted Turkey – with stuffing, mashed potatoes, green beans and cranberry sauce – The perfect Christmas dinner, on a tiny plate you can carry around with you! Head to the American Holiday Table at the American pavilion for this treat – best of all? No dishes to clean!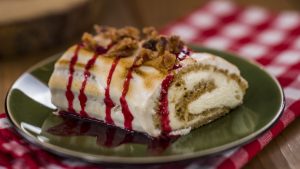 3. Maple Bûche de Noël – maple mousse rolled in gingerbread chiffon cake with cranberry sauce and pecan crumble – It's hard to beat maple anything, and Canada knows how to do it right. Add gingerbread and it's a perfect mix. Run to the Yukon Holiday Kitchen for this amazing dessert.
4. Bûche de Noël au Chocolat – slice of chocolate Christmas Yule Log – ok, I know it's two yule logs in a row, but they're just that good! This traditional Christmas treat from France is almost too pretty to eat. Almost. Find it at the Alsace Holiday Kitchen in the France pavilion.
5. Mongolian Beef Bao Bun and a Fortune Cookie – I had to include something from China after our recent Adventures By Disney trip to Shanghai and Hong Kong. This brought back fun memories of the food we tried. And with a bonus fortune cookie, you can't go wrong! Find this at the Shanghai Holiday Kitchen in the China pavilion.
And I haven't even mentioned the unbelievable spirits around the world. (Can you say Frozen S'Mores with caramel vodka??!) I'm pretty sure we need to extend the holiday season a few more months so we can all try all of these wonderful food and drink items! Ok, your turn, what's your favorite Holidays Around the World item?